Zuzka is living in Kracow since February 2020, currently in the Kazimierz district. Until recently, she worked in digital marketing and is now looking for her next challenge. How does Zuzka see Krakow through her eyes and what were her beginnings? You will learn this in the following lines.
Have you ever lived abroad before? Why did you choose Poland?
Over the summer I regularly went to Work and Travel camps in America. Five whole years in college. There I gained experience with foreign languages, culture and travel in general. After college I didn't feel like going to work yet, so I went to Asia with my friends. I was there from August to November 2019. I stayed at home with my family for a while and from the New Year I started looking for a job.
I chose Poland mainly because of my then boyfriend. He was a Macedonian, so we agreed to choose neutral territory where neither of us would be at home. Poland was actually our last resort, which we ended up doing by complete accident.
How did you look for a job?
I saw an advert on Ahoy Career for a super attractive position where English was required and the position was even related to my degree. However, it was not a position in traditional marketing, but in digital marketing. So I wrote to Zdenek Fedeš. And Zdeno called me back and we talked for about an hour. I was still in Slovakia. I interviewed directly with the company remotely. So I went to Krakow knowing that I had already secured a job.
How was the move?
I used to live some two or three hours' drive from Krakow. So my mom and I got in the car and planned a sort of girls' night out after we picked out an apartment.
How did you look for accommodation?
When you move to a new city, you usually don't recognize the different districts. So I only knew roughly where to look for accommodation, or which part of Krakow was nice. And on the day I arrived in the city, I arranged for about 5 tours. I'll never do it again. I came with my mom and
we were sure that we would choose one of those five apartments. But the apartments were scattered all over the city, so we ended up only managing two or three tours. Although some of the apartments looked terrible, in the end we managed to choose.
What memory comes to mind when you think of your beginnings in Poland?
When we were on one apartment tour, we were standing in the aisle and my mom says to me: "Notice what's hanging up on those cables. Do you know what it means when there are sneakers hanging there? That it's a drug area." So my mom ran out on me to see if I was crazy and we went to look for another place to stay. In the end, it worked out well.
What language do you speak in Poland?
I've got it all mixed up. Thanks to a friend, I know Serbo-Macedonian. Of course I use English at work, about 50%, but it's more technical English. The other 50% speak Slovak. And I'm trying to speak Polish too. But I have no problem with Polish. In Slovakia, we have a dialect – Šariština, which is similar.
How does your social life work in Krakow?
I'm a very social person. We had a great team at work as well. But I didn't meet any Slovaks in the city. There are very many nationalities here. There are many Turks, Spaniards, Italians, Balkans, etc. I go out with the Balkans most often. And when I met the Poles, I spoke Serbian with them too, because they were big fans of the Balkans.
What do you do in your free time? Where do you go for fun?
There was Covid, so when I did go out with people, it was usually just to someone's house party. Now, however, the restaurants and bars in Krakow are gradually opening.
How do you live here compared to Slovakia?
When I arrived in Krakow, I fell completely on my ass. It's a really beautiful city. Even more beautiful than Prague. It's a city straight out of a fairy tale. You can see that this is a tourist town that the locals take care of. I really like the local architecture. And there is excellent infrastructure. You can get everywhere. Whether by tram, Bolt or scooter. In Krakow one also has the opportunity to meet a large number of "multicultural" people. There are a lot of artists here.
Overall, I think the Poles are ahead of us. Whether it's about policy or services. There is no problem getting hold of any doctor here. Beauty treatments are extremely widespread here. It seems to me that here you have more choice when it comes to fashion than in Slovakia, for example.
What did you think of Poland before you experienced it for yourself?
Slovaks do not perceive Poles in a positive way. Not that it is the worst nation in the world, but especially Slovaks living in the borderlands have interesting experiences. There have also been a few rumors about Poland regarding the quality of imported food, such as meat.
But I don't actually know myself why this is so common. Mostly I'm glad that not everyone sees it that way.
How do Poles perceive a foreigner?
I haven't come across Poles rejecting a foreigner. I think they are used to tourists and usually when the locals talk to them, they will try to help them in any way they can to explain what is needed, even if they don't know the language.
Do you perceive any fundamental differences in Polish and Slovak culture?
Poles are incredibly hardworking. When I compare it to our welfare system, it makes my head spin. Here's how it works: You want something? Then go to work. Go to work. No wallowing at home.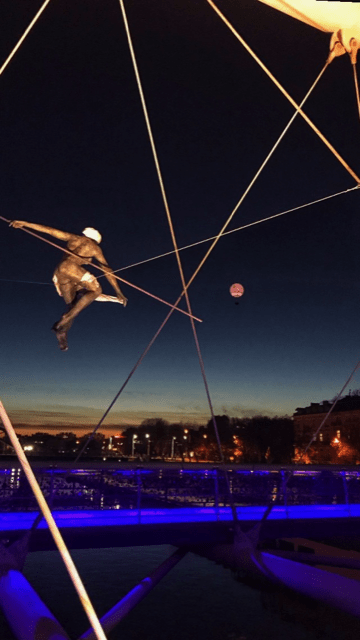 What about you and Polish cuisine?
I generally don't like it when you come to a new country and the shops there have completely different food. One has to run, search and read to find what one needs. And Polish cuisine, unfortunately, I don't like at all. I don't like pierogies in a thousand sweet ways or anything else. The most I could manage is zapiekanka. I prefer Balkan cuisine. Salads, that's what I like.
What do you do at work and how did you reach this position?
Until now, I'd been working in digital marketing for a global company. I did customer support for customers from Czech Republic and Slovakia. I got the position thanks to Ahoy Career. I think in Poland you have more options. For example, I wouldn't be able to reach my position in Slovakia as a beginner just like that. I would need at least a year of experience.
Who are your colleagues?
I worked mainly among Slovaks and we had two or three Czechs there. My manager was Ukrainian, but I spoke English with her. Overall, I had great colleagues.
If you had the chance to change it, would you move to Poland again?
Yes, I don't regret it at all. I think I chose well. Everything worked out beautifully, even with Covid playing into my hands in the end. I was in training for a month, then at work for about a week, and then I went to the home office.
Will you remain in Poland?
Hard to say. It will depend on the circumstances. For example, if I want to start a family in the future and I already have commitments here, I would probably choose to live in Krakow. I know this place. It's not a big city, but it's not too small either. Everything is at your fingertips. But if you tell me that there's a better job waiting for me in Gdansk, I'd go there. I don't fixate on one place.
What would you say to people who are still thinking about making a similar change to the one you've made?
Definitely don't be afraid of change. Go ahead. Poland truly surprises people in a very pleasant way. In everything. As I was saying, they're pretty far ahead here.